Ukulele Lessons In Winnipeg
Available Online, In-Home, In-Studio and at School
Online & In-Home Ukulele Lessons​
Hal Leonard Ukulele Method
We love this method because it's so comprehensive, it has something to offer for ukulele students of all levels. The guide features lessons by renowned uke legend Lil' Rev, and comes with a ton of information about the history of the instrument. More importantly, it's full of fun songs, and music lessons on reading tablature, musical notation, rhythm and more. You'll learn to strum, play chords, tune your uke, and play gorgeous melodies that will warm hearts and inspire others. You'll learn organically, always building step by step on new concepts; it's a fun way of mastering the ukulele!
Ukulele: fun to say, fun to play! These wonderful stringed instruments have been around for a little over 100 years, and they've captured the hearts and minds of many. Interpretations of classics by Israel Kamakawiwoʻole and Jake Shimabukuro have inspired new players to pick up the instrument, and the momentum ukuleles have gained shows no sign of slowing.
The ukulele is a stringed instrument that was developed in Hawaii after Portuguese immigrants landed there in the 1800s with their own small stringed instrument, the machete. It holds an interesting place in the world of stringed instruments for a couple of reasons. The tuning of a ukulele is different than that of a guitar; it's known as reentrant tuning. That's because the bottom string of the ukulele is tuned higher than the second string, allowing for tight, harmonic playing. That's not the only way you can tune the instrument, of course, but it is part of what makes ukuleles stand out from other instruments:  bright, evocative music. There are also a number of different types of ukulele, from contra-bass to sopranino, so you can get very different sounds depending on what type you choose!
Learning the ukulele is just plain fun; the number of works you can transcribe to this four-stringed wonder is incredible. You can play with a whole ensemble of other ukulele players (Ukuleleists? Ukulelists? You decide). You can play alone to accompany your voice, or you can get a singalong going; ukuleles are small, so they're portable!
Another advantage of a ukuleles small size is that they're perfect for kids who want to learn to play music, but might find a bigger lute-like instrument difficult to handle! One of the joys of lute-like stringed instruments is that you can transfer techniques from one to the other with relative ease; they all have their own style and flavour, but you develop limb independence between your chording hand and strumming hand all the same on any of them.
Learning ukulele is learning music, and that comes with unbelievable benefits for your child. Consider the work that goes into learning music; you have to learn how to read notes on a chart, how to read rhythms. That's math and language rolled into one, and your child will learn about it in so many ways; visually, aurally, kinesthetically. They'll have to practice to make perfect, and that will teach them discipline and patience. They'll stick with it, though, because the rewards that come with learning ukulele are their own gift; the ability to play a beautiful piece. It's inspiring to watch a child play and become enraptured in their own playing, as they grow in confidence and skill. They'll learn to channel their emotions into their playing, a healthy way of growing as a person.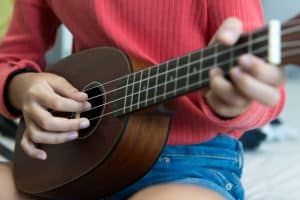 To summarize: they'll gain emotional intelligence, logic and language skills, confidence, patience, humility and discipline. Pretty incredible for a small, four-stringed instrument!
Those benefits aren't just for youth; anyone can pick up an instrument at any age! You too can learn to play beautiful ballads on the ukulele, and you too can learn to express your inner self in ways you never thought possible. It's never too late to hone your own confidence, performing abilities, dexterity and intelligence, so don't hesitate to take up lessons and learn something new and exciting.
Learn At Home
Our at home lessons are perfect for students of all ages, adults and kids alike! For kids, they're useful for a number of reasons; children are usually more comfortable in their own homes, and learning from home means parents don't have to make a long trip to another location or school. You can do what needs to be done at home while listening to your child develop their musical talents! Comfort and ease of access make this option great for adults, too, especially those who might not be able to get around easily otherwise!
Register for a class today!