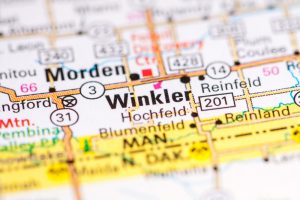 The Academy of Music now offers Online Lessons in Winkler, Mb. The Academy of Music has been offering quality in home music lessons at reasonable tuition rates for over 30 years starting in Winnipeg in 1990. We now offer on-line instruction via Skype, FaceTime or Zoom in Winkler Manitoba on the piano, guitar, voice, violin, drums, ukulele, flute, saxophone, clarinet, trumpet, trombone, oboe, bassoon, euphonium, tuba, French horn, viola, cello, double bass and electric bass lessons!
It is our mission to offer the highest quality, enjoyable musical education and to make them convenient and affordable for everyone! We have found many benefits to learning on-line as most of our students have switched to online learning. Please visit our on-line lessons section for more information.
Winkler is one of the most culturally important cities in Manitoba, along with its twin city, Morden. Think of all the incredible festivals and events, like Harvest Fest and the incredible shows at the P.W. Enns Centennial Concert Hall. There are also amazing musicians from the city, like the venerable conductor Howard Dyck. You might also look to the Janzen Brothers, who operate one of the best music stores in the entire province.
Suffice it to say, Winkler is a great place to live for aspiring musicians. The city is steeped in music and culture, and between the festivals and concerts happening in Winkler's backyard, you'll have a lot of opportunities to listen to new music, hang with musicians, and even play music of your own – that is, if you know how to.
You can tap into Winkler's heritage by learning to play an instrument, or even by taking vocal lessons to explore the most unique instrument in the world – your own voice. You'll find support throughout the city, and plenty of opportunities to practice and play. At a time when in-person music lessons are less than ideal, and honing a new talent can give you a sense of control and, to be frank, something to do, virtual music lessons are a great way to go.
Music Lessons
So what can music lessons do for you, and why should you take music lessons over Zoom or Facetime instead of, say, just looking up tutorials on YouTube? What are the real advantages to the residents of Winkler? There are honestly too many to list here, but let's get started:
First, why learn music? The most obvious reason is that you have a passion for music, and you want to create something beautiful. Trust us – if that sounds like you, you're going to love music lessons. There are very few things in the world as gratifying as mastering a new song, or learning new techniques on your instrument of choice.
Of course, you should probably only take music lessons if you're into the idea of learning an instrument. For those of you who have an interest, but aren't totally sold on the idea, it might help to think of some of the incredible benefits learning an instrument can bring:
Let's start with the mental benefits. When you study music, you learn how to practice. That means trying, failing, and trying again until you've mastered a particular part or piece. This lesson is invaluable – persistence brings triumph.
You'll also learn focus – a kind of focus that music is especially good at developing. Keeping all the notes you have to play and all of the harmonies and rhythms in your head, all while locking in with the rest of your band – it takes a type of concentration that requires you to focus on fine details and the big picture simultaneously.
There are all kinds of emotional benefits to learning music, too. The thrill of finally mastering a difficult piece. The joy and sorrow that can come within notes of each other, and the power of knowing that you and your audience are feeling those emotions.
Then there are the physical benefits, from breath control to manual dexterity. There's a lot more physicality to playing any instrument than meets the eye, and you'll learn to hone your body to meet the demands of playing.
Now you know some of the many benefits of learning an instrument – so why should folks in Winkler learn online with us? For starters, we're Manitoban! We've been serving our community for 30 years – we're proud to be part of Winkler's musical history.
Having someone from Manitoba teach you opens up a lot of opportunities. We know about the concerts and events happening throughout the province, so we can help you find opportunities to play!
You may also be wondering why you should take lessons with a teacher at all when there are so many resources available online. That's a fair question. There are a lot of reasons, but here are some of the biggest:
An instructor can watch you learn and play – that means they can offer personalized tips and corrections that aren't available with pre-recorded lessons.
Your instructor can customize your lesson plan to your tastes – they can teach you songs and styles you might not be able to find online.
You'll develop a connection with your instructor, which can lead to much more effective instruction.
Our instructors are all highly trained – you'll know the credentials of the person who is teaching you.
Now, let's take a look at some of the many different instruments we can help you learn to play:
Piano Lessons
The piano might be the most important instrument in the western hemisphere. Imagining music today without the piano is almost impossible – even present-day composers who use digital audio workstations (DAWs) often use the piano to make their songs and beats. The layout of the piano makes it an excellent tool for composers. Its unique design aside, pianos sound incredible. Whether you're looking to play pieces from the Classical canon or go to bars and play rock and roll, the piano has something to offer everyone. We teach Royal Conservatory courses, custom lessons, and a whole lot more.
Guitar Lessons
While the piano might be the most important instrument in the west, when it comes to music in the 20th century, it's hard to argue for anything but the guitar. Country, blues, folk, rock, metal, and all of their respective subgenres – plus, of course, all of the incredible singer-songwriters who play guitar. Whether you want to pick up your classical guitar and take Royal Conservatory courses or shred on an electric, we've got courses that will suit your needs.
Drum Lessons, Voice Lessons, and More!
There's a lot going on in the Winkler music scene, but no matter what you're doing, you'll need someone to keep rhythm. Our drum lessons can help you do exactly that – everyone needs a drummer.
Love singing in the shower? Long to sing in front of an audience? Whether you want to learn opera singing, pop songs for karaoke night, or anything in between, we've got lessons for you.
These are just a few of the many instruments we teach – check out our Instruments section for a full list. No matter which instrument suits your fancy, you'll learn theory and practice.