Also available In-Home and at Studio
Online Ukulele Lessons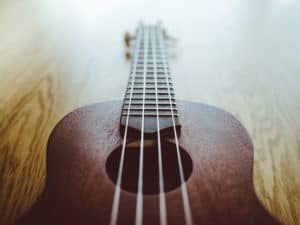 Our at-home lessons are perfect for students of all ages, adults and kids alike! We at the Academy of Music are also excited to offer ukulele lessons online that deliver the same high-quality, inspirational experience with all the support and guidance students could possibly need. 
Online ukulele lessons can be useful for a number of reasons. First off, children are usually more comfortable in their own homes, and learning from home or virtually means there's no need to travel to another city or specialized school for a session. Second, it's a great opportunity to develop critical life skills including hand-eye coordination, listening capability and, of course, plenty of patience! Lastly, for adults, we can develop a program schedule that doesn't interfere with your responsibilities, and without sacrificing precious downtime to unwind. For more details or to discuss all your ukulele lesson needs, we'd love to hear from you. Discover your inner musician by enrolling in the Academy of Music today!
Want to have an in-person class?

Our Approach: The Hal Leonard Ukulele Method
Putting the "Fun" Into the Fundamentals of Ukulele Mastery
We love this method because it's so comprehensive, it has something to offer for ukulele students of all levels. The guide features lessons by renowned uke legend Lil' Rev and comes with a ton of information about the history of the instrument. More importantly, it's full of fun songs and music lessons on reading tablature, musical notation, rhythm, and more. You'll learn to strum, play chords, tune your uke, and play gorgeous melodies that will warm hearts and inspire others. We offer the chance for students to proceed at a pace that works for them and learn organically, always building step by step on new concepts – it's a fun way of mastering the ukulele!
Ukulele: Fun to Say, Fun to Play! 
These wonderful stringed instruments have been around for a little over 100 years, and they've captured the hearts and minds of many. Interpretations of classics by Israel Kamakawiwoʻole and Jake Shimabukuro have inspired new players to pick up the instrument, and the momentum ukuleles have gained shows no sign of slowing. 
The ukulele is a stringed instrument that was developed in Hawaii after Portuguese immigrants landed there in the 1800s with their own small stringed instrument, the machete. It holds an interesting place in the world of stringed instruments for a couple of reasons. First, the tuning of a ukulele is different than that of a guitar; it's known as re-entrant tuning. That's because the bottom string of the ukulele is tuned higher than the second string, allowing for tight, harmonic playing. That's not the only way you can tune the instrument, of course, but it is part of what makes ukuleles stand out from other instruments: bright, evocative music. There are also a number of different types of ukulele, from contra-bass to sopranino, so you can get very different sounds depending on what type you choose! 
Playing with Passion
Learning the ukulele is just plain fun – it's amazing what this little, delicately crafted instrument can achieve with its voice and your handling of it!. For instance, why not play with a whole ensemble of other ukulele players (Ukuleleists? Ukulelists? You decide)? Or, you can play alone to accompany your voice – and you'll possibly get a singalong going (don't say we didn't warn you). Ukuleles are small, after all, so they're portable and can be enjoyed almost anywhere! Another advantage of a ukulele's small size is that they're perfect for kids who want to learn to play music but might find a bigger lute-like instrument or guitar difficult to handle. 
Transfer Your Skills
One of the joys of similarly stringed instruments is that you can transfer techniques from one to the other with relative ease. They all have their own style and flavour, but you develop limb independence between your chording hand and strumming hand all the same on any of them. Learning ukulele is learning music, and that comes with unbelievable benefits for your child. 
Learn with Us – and Discover Your Potential
Consider the work that goes into learning music. This includes figuring out how to read notes on a chart, not to mention how to read rhythms. That's math and language rolled into one, and your child will learn about it in so many ways; visually, aurally, kinaesthetically – we could go on, and we're also there to help them along the way!. 
A student will have to practice to make perfect, and that will teach discipline and patience. Most stick with it, though, because the rewards that come with learning the ukulele are their own gift including the ability to play a beautiful piece. It's inspiring to watch a child or adult play and become enraptured in the results they achieve on their own, growing in confidence and skill. Kids in particular often learn to channel their emotions into their playing, a healthy way of growing as a person. It's a way to gain emotional intelligence, logic and language skills, confidence, patience, humility, and discipline. Pretty incredible for a small, four-stringed instrument! 
Those benefits aren't just for youth, of course – anyone can pick up the instrument at any age! You too can learn to play beautiful ballads on the ukulele and express yourself in wonderful new ways. It's never too late to hone your own confidence, performing abilities, dexterity, and intelligence, so don't hesitate to take up ukulele lessons online with us, and learn something new and exciting!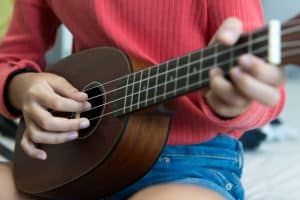 Frequently Asked Questions
Do I need my own equipment to take ukulele lessons online?
We'd recommend it as it can get dull just watching someone else play! Kidding aside, you'll need even a basic ukulele to develop your own skills and progress through the course. That being said, there's no need to run out and purchase an instrument if you're not yet sure if the ukulele is something you wish to master in the long run – it's best to rent good-condition equipment instead. You can often find spare ukuleles at music schools, mom-and-pop music shops in need of your business and even the occasional rec centre, so don't hesitate to check your local community and see what's available!
How much do online ukulele lessons cost?
We're happy to work not only within your availability but also your budget. Our lessons vary in cost depending on several factors including the type of course preferred and any custom elements, the amount of time per and number of sessions, and more. Feel free to reach out to us with any questions, concerns or great ideas and we'll happily work with you on an ideal learning solution!
What age is best to start lessons at?
Any age is a great fit for learning the ukulele, especially for kids! We provide flexible, supportive programming that adapts to specific student needs and experience levels, so everyone from beginners to pros can fully benefit from enrolling in the Academy of Music's online ukulele lessons.