Online Double Bass Lessons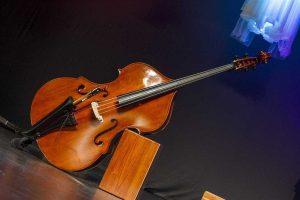 Everyone learns differently, and each person is going to be at a different point on the road to bass mastery; in fact, the journey will continue for as long as you want to learn bass, because there's no perfect musician. That's why we offer a variety of different courses for bassists of all levels. For those who are new to the instrument, you can't get a better course than Hal Leonard's Essential Elements. This course is beloved because it uses a variety of different media in order to cement learning in many different ways. You'll listen to music, watch videos, and read and write in your course book, all while learning the foundations of bass playing. We're especially fond of the course's progression; each lesson compounds on the last, so you're always refining techniques you've learned while acquiring new skills. Essential Elements has a different course for each instrument in the orchestra, but all of the songs you learn are the same, so you can get together with friends and family who are taking the course and play together! For more advanced learners, we can't wait to help you take the gold standard in music education courses, the Royal Conservatory exams. These courses, once completed, can be used as high school credits, and those who pass all of the exams are well on their way to being professional bassists; we'll make sure you have the confidence, technique, and knowledge required to ace the exams. You might not feel like either of these courses suits your needs; you might have some pretty specific bass-related goals! That's no problem at all; our instructors can personalize a program of study that best suits the needs of the student, whether it is to get a head start with a school band program, to reinforce and supplement a current school band program, to prepare for a university music program or just for fun!
When someone has many titles, you know they've lived a storied life, that they've been many things to many people, that they've played many roles. So it is with the double bass, also known as the contrabass, the upright bass, the string bass, the doghouse bass, the acoustic bass, the bull fiddle – this glorious instrument, which today, we'll simply call the bass. We can't wait to teach you the bass, because it's one of the most important and historied instruments in music, from its role in symphony orchestras to its role in bluegrass and jazz. Let's look at how we'll help you along with your transformation from newcomer to master bassist.
The process starts with our in-home lessons. That's right, you don't need to come to us – we'll go to you. This is particularly great for parents; we know your schedule is already incredibly full, driving to and fro, maintaining your household, and more – you probably hardly have a second to yourself. With in-home lessons, you don't have to drive halfway across the city to ensure your child will get the best musical education; you can stay at home, take a moment to relax, start on supper, or whatever else you'd like to do, all while listening to your child progress as a bassist. What's more, the program is great for kids, too; we've found most of them are more able to learn and grow with in-home lessons, familiar surroundings giving them the comfort they need to delve into something new and exciting. In-home learning is great for adults, too; you can set up a space conducive to learning music, with all the vibes that suit you best, and you won't have to transport your bass around the city; which, believe us, is a big plus.
There are so many great reasons to learn the bass. A bassist's role in the orchestra is incredibly important; you're filling out the low end, so that compositions feel more full and rich. You're also adding an incredibly important rhythmic element to every song. That's why, as a bassist, you'll never find a lack of songs to play; there's even an extensive solo repertoire for the instrument.
You'll find an equally rich and diverse repertoire for the bass in popular music. The bass is most commonly tuned the same as the electric bass, so it's easy to play an electric bassline on the double bass. Additionally, a ton of jazz tunes and bluegrass songs use the bass as one of the most important elements in the rhythm section.You'll learn so much when you pick up the bass. You'll learn all the techniques, to be sure; how to position yourself and the bass, how to play with a bow, how to play with your fingers, how to refine your technique. You'll also learn things that are useful in the wider world. You'll learn to focus; on your breath, on the rhythms around you, on the ambient sounds that are with you every day. You'll learn to read music, to understand it, to conceptualize the world in a new way. You'll grow emotionally, recognizing your own feelings, and those of others, better, as you you learn to really feel a song and the people you're playing it with. This is an exciting journey; we can't wait to take it with you.